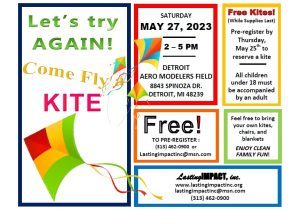 MAY 27, 2023, LASTING IMPACT KITE EVENT at Detroit Aero Modelers Field (Rouge Park)
Join Lasting Impact for an afternoon of kite flyig, games, fellowship, friends, and fun.
You may bring your own kite or we will provide you with one (while supplies last).  To ensure you a kite, you can pre-register by clicking on "Pre-Kite Registration" below in order to reserve one.
You may also pre-register by calling (313} 462-0900 or by emailing lastingimpactinc@msn.com.
All children under 18 must be accompanied by an adult.
Come join us!
Detroit Aero Modelers Field
8843 Spinoza Drive
Detroit, MI  48239
2014 Golf Event
2015 Lasting Impact Golf Classic & Luncheon for Wellspring
2015 Lasting Impact's Let's Go Bowling
2016 Lasting Impact's Benefit Luncheon for Circle Y Ranch Bible Camp
2017 Lasting Impact's Let's Go Bowling
2017 Lasting Impact's Father's Day Jazz Luncheon
2018 Jazz Luncheon for City Mission in Detroit, MI2019 Jazz Lunncheon - supporting The Girls Factory
2019 Lasting Impact's "Come Roll with Us" (bowling)
2019 Jazz Lunncheon - supporting The Girls Factory
2020 Lasting Impact's "Come Roll with Us" (bowling)
2021 Lasting Impact's "Fall Fest" for CDC Breakthrough Afterschool Reading Program
2022 Lasting Impact's "Come Fly A Kite" (free event) at Detroit Aero Modelers Field